Dr Blaithin O'Dea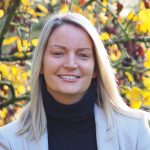 ---
I am a Chartered Clinical Psychologist registered with HCPC, trained to doctoral level with leading experts at the Institute of Psychology, Psychiatry & Neuroscience, King's College London. I have 11 years experience in NHS mental health services supporting people with wide ranging emotional difficulties including low mood, anxiety, complex trauma and physical health problems.
I work with adults and young people from age 16 upwards. If you are under 18, I am mindful that you are at a point of transition into adulthood. My approach is to offer you a balance between autonomy and parental/guardian involvement when attending sessions to ensure that you feel you are getting the support and privacy you need.
I am trained in cognitive behavioural therapy, acceptance and commitment therapy, compassion focused therapy, EMDR and mindfulness based interventions. I draw upon evidenced based approaches to tackling complex problems to help you move forward in life.
My NHS work has allowed me to become a specialist in two areas; psychological difficulties associated with physical health problems and perinatal mental health (pregnancy, birth and the first 2 years of parenthood).
If you find yourself down or stressed by demands in your life stemming from work, education, relationships, parenting, feelings of emptiness or a lack of meaning, I may be able to help. Together we can work out what situations and responses lead to distress and find ways to approach things in a more workable way.
I am trained to support you if your difficulties have led you to self-harm or to consider ending your life. I understand the importance of identifying situations which make these behaviours more likely and working with you and your family to help you cope in a crisis. I am committed to supporting people to stay safe and to live well.
I aim to listen without judgement and will invite you to be gentle and compassionate with yourself. At our first meeting, I will spend time hearing what has brought you to seek help and what your goals are. I will give you a clear and honest opinion on what approach could help, how many sessions I recommend and whether I am the right professional for you to work with. When sessions begin I will work with you to explore how your difficulties developed and why they persist. I can guide you in the development of strategies to respond more effectively to difficult emotions and experiences. I am passionate about helping people work towards a life that they feel is meaningful and in line with their values.
As well as my work with the Salisbury Practice, I am a guest lecturer for trainee psychologists at the University of Southampton, and a Principal Clinical Psychologist with the Hampshire Perinatal Mental Health Team. I am also a mother, partner and dog lover and am doing my best to navigate everyday challenges in pursuit of a meaningful life.
A client's view…
"I started seeing Blaithin in March 2020 – this is my third experience of counselling in the last 30 years. I wanted/needed someone to help me to start to like myself and feel any sense of value. I wanted to do this but didn't feel worthy, so wasn't really worth the effort, I didn't deserve to be ok. I found B so easy to talk to. I felt safe and not judged. We talked about my passengers and my inner voice always telling me how rubbish I was and knocking my confidence and my belief system. How could I like myself when I was so rubbish and worthless. I found with B's guidance and calm, empathetic manner I could open up completely and tell her about the (trauma) I just couldn't bring myself to look at even after 30 years. By talking about this horrible time, it has allowed me to start to rid myself of the guilt and the shame and properly move forward with my life – self compassion is still going to be a work in progress! I would highly recommend B as I found her to be professional, warm, empathetic and a really good guiding support when I was struggling to make sense of how I could ever be ok. I have already recommended her to 3 people"
My fees are currently £100 per session, increasing to £110 per session from the 1st of September 2021
Registered with Health Insurance Providers; AXA HEALTH / AVIVA / CIGNA
---